After a two-year hiatus due to the COVID-19 pandemic, the BWF World Junior Championships are set to return in Santander, Spain, on October 17, 2022. Get ready for some exciting badminton as the best players under the age of 19 around the world face off against each other.
The BWF World Junior Championships is an annual tournament organized by the Badminton World Federation (BWF) that will be held in two stages.
The first stage is a mixed-team championship called the Suhandinata Cup. Various countries will compete against each other in team best-of-5 battles. Selected players representing their country will play matches of men's singles, women's singles, men's doubles, women's doubles, and mixed doubles depending on which team gets to three points first. For example, it is possible that a country does not play women's singles and men's doubles if their players played the other three categories first and won all three.
The Suhandinata Cup will run from October 17 to October 22, 2022. Draws are below: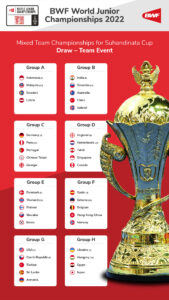 Historically, China has dominated the mixed team event winning 13 out of the 17 tournaments that have happened. The most recent winner was Indonesia in 2019, where they took down China in a 3-1 victory.
With a two-year hiatus since the last tournament, it's hard to say who will come out as the next champion. Will Indonesia defend its title? Or will rising countries around the world make an upset?
After the completion of the Suhandinata Cup, the individual championships (Eye Level Cups) will begin on October 24 and end on October 30. This is where players will play more-or-less for themselves in their respective categories and aim for number one.
Be prepared for an exciting tournament, as many of the world's best players, like current world men's singles number one Viktor Axelsen, were former champions and participants of the BWF World Junior Championships.
You may also recognize the names of former winners, such as Kento Momota, Akane Yamaguchi, and Nozomi Okuhara from Japan, or top players from China, such as Chen Long, Chen Yufei, and Zheng Siwei. It's also notable that two Thailand players, Kunlavut Vitidsarn and Ratchanok Intanon, both went for a threepeat, winning three championships in a row in their respective years. 
With so many famous names in previous BWF World Junior Championships, there's no doubt this tournament's top players will be the badminton world's future stars.
Alex Lanier, the number one seed from France, will be the favorite to win the men's singles category of the tournament after coming off of a win at the 2022 Canada Open at only 17 years old. Number two and three seeds, Alwi Farhan of Indonesia and Justin Hoh of Malaysia, respectively, are not to be underestimated either, with both coming from countries with historically strong badminton results.
And, of course, China is not to be forgotten about as previous results show that they're always holding several superstar badminton players still unknown to the world.
More information on the 2022 BWF World Junior Championships can be found in the links below: