After years of playing with different rackets, my brother and I finally realized the benefits of playing with the same rackets. Instead of switching rackets as our strings break, playing with the same rackets is much easier. Deciding which racket would be our main racket was tough, though. But after months of testing different rackets, we finally found the one we want to use.
Welcome to my Yonex Astrox 100ZZ badminton racket review! In this review, you'll hear my opinion on the Yonex Astrox 100ZZ and why this is my new main racket.
Summary
Power: 9/10
Speed: 9/10
Overall Rating: 9/10
Recommended For: Advanced Singles Players
Extras: HM Graphite / Namd / Tungsten / Black Micro Core / Nanometric Frame, Extra Stiff Shaft
Where To Buy: Amazon
Review Model: 4U G5, Yonex AC402EX Towel Grip, Yonex AC102EX Super Grap, and Victor GR338 Towel Grip, Yonex BG65 Ti and Yonex Aerobite Boost both @28 lbs
Power – Powerful, Clean Hits
I get phenomenal hits with the Yonex Astrox 100ZZ. The first thing I noticed when I played with the Yonex Astrox 100ZZ for the first time was how clean my smashes felt.
For me, the Astrox 100ZZ provides a different kind of power. It doesn't offer the same kind of monster smashes as some other rackets, but it gives a more crisp feeling.
In other words, it's not the greatest in raw power, but the racket is undoubtedly one of the most precise ones I used.
The power is especially noticeable in my half, slice, and stick smashes. Since these shots prioritize placement and angle over power, the Yonex Astrox 100ZZ is especially suited to those who often use half-smashes and slices. This makes the Yonex Astrox 100ZZ one of the best badminton rackets for singles players, where placement shots are used the most.
The Yonex Astrox 100ZZ's extra stiff frame and shaft produce much of the crisp power. Players who used to play with the Yonex Voltric Z Force II would love the Yonex Astrox 100ZZ.
The extra stiff shaft allows the Astrox 100ZZ to transfer power exceptionally quickly. More flexible rackets can't transfer power as quickly, but their bend adds some extra power that the Astrox 100ZZ does not do.
If you look at notable pro players who use the Yonex Astrox 100ZZ, such as Viktor Axelsen and Shi Yu Qi, you'll see why they play so well with the Yonex Astrox 100ZZ. Their game revolves around using good half-smashes to place the shuttle in locations that force their opponents to move and ultimately make mistakes.
Comparably, you can see the playstyle change in other players who don't use the Astrox 100ZZ, such as Lee Zii Jia, Chou Tien Chen, and even Anthony Sinisuka Ginting, who are all raw power players. This is why you don't see the Yonex Astrox 100ZZ used in pro doubles play as much because raw power is often more important than placement in doubles.
But to be clear, this doesn't mean the Yonex Astrox 100ZZ cannot generate powerful, super smashes. It's not as good as some of the other top rackets, but you can still generate powerful smashes. From raw power alone, this racket is an 8/10, but the crisp feeling it adds to your power shots boosts it up to 9/10 for me.
Speed – Swift and Sharp
You probably would have guessed that the Yonex Astrox 100ZZ gets a very high rating for speed since I talked about how crisp the racket feels and its ability to transfer power to the shuttle quickly for so long.
The Yonex Astrox 100ZZ is the fastest head-heavy racket I've played with. I was noticeably a faster player the first time I tried the Yonex Astrox 100ZZ. I could quickly play drops and attack the shuttle even if my opponents played a flatter game.
Again, it's the slice drops and cut smashes that feel amazing. Drives and more doubles-styled shots also feel good, though I would say the Astrox 100ZZ is just a little too heavy and stiff for some doubles players.
I would still give the Yonex Astrox 100ZZ a 9/10 in the speed category, but for those who need the extra speed for quick drive battles, you might want to consider the Arcsaber or Nanoflare series.
Price and Extras
Being Yonex's flagship racket, the Yonex Astrox 100ZZ is not cheap. It's one of, if not the most expensive racket outside of limited edition and discontinued rackets with a price of about $320 CAD or $240 USD.
Is the racket worth the price? In my opinion, yes.
Of course, it will all depend on whether the racket is suitable for you or not. With every badminton racket review, I highly recommend playing with a test version to see if you like the racket.
Not everyone has access to people who can give them a racket to play around with, so I will say that the Yonex Astrox 100ZZ is most suitable for advanced singles players.
Due to its extra stiff shaft and frame, the Yonex Astrox 100ZZ does take good technique to be used to its full potential. If you don't know what a slice or a cut smash is, maybe look for a different racket option.
From personal experience, the Yonex Astrox 100ZZ plays very similarly to the Yonex Voltric Z Force II, so if you loved playing with the Z Force II before, you'd love the 100ZZ. The Astrox 100ZZ just has a slightly larger head and is a little less heavy than the Voltric Z Force II.
It also currently comes in two styles: the Kurenai version and the Dark Navy one. Let me know which one you think looks cooler!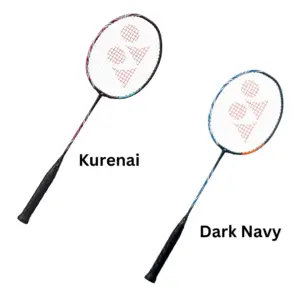 Yonex Astrox 100ZZ Badminton Racket Review Conclusion
And that does it for my Yonex Astrox 100ZZ badminton racket review! Overall, this racket gets a 9/10 rating from me. It's not the perfect badminton racket (I don't think that will ever exist), but it is pretty darn good.
Its extra stiff shaft and frame make the racket transfer power to the shuttle so quickly, allowing users to play very clean, precise shots. I may not be able to play the strongest smashes in terms of raw power, but the angle and placement of my shots are much better with the Yonex Astrox 100ZZ, and the swiftness of this racket compared to other head heavy rackets lets me engage in flat singles play much better.
As always, if you have any questions or comments, please feel free to leave them down below, and I'll be happy to follow up!