The Yonex Astrox 99 badminton racket. Many have called it the best racket for singles players ever. It is known for its huge power or as Yonex likes to market it, its "relentless attack." But there are a few drawbacks of this racket that you may or may not know that I found after spending some time with. Let's get into my review of the Yonex Astrox 99 badminton racket.
The Yonex Astrox 99 is a racket that I disliked when I started playing with it but slowly loved it more the more I played with it. Like many rackets, it has its ups and downs. This racket, however, is a racket that I took an extremely long time to review.
There are so many things that make this racket good, but it also takes quite a long time to get used to, at least in my case. First, I'll summarize some stats and my ratings on this racket, and then I'll get into each individual aspect I review.
Summary
Power: 9/10
Speed: 8/10
Overall Rating: 8.5/10
Average Price: $270 CAD
Recommended For: Advanced Players
Extras: Stiff Shaft, Head Heavy, Graphite/Namd Shaft, Astrox Steep Smash Technology
Where To Buy: Amazon.com
Review Model: 4U G5, Tried with both factory grip, Yonex AC402EX Towel Grip, and Yonex AC102EX Super Grap, Tried both Yonex Aerobite @28lbs and Yonex BG65 @24lbs
Power
This racket generates some of the best power out of all the rackets I have tested… if you have the strength and proper swing technique.
When I first started using the Yonex Astrox 99, it was inconvenient to use. Yonex's acclaimed steep attack on the Astrox series was working with all my smashes initially hitting the net. Smashes and clears did not have the satisfying power feeling either.
And it kept getting worse as I kept adding more strength into my swings (if you're an experienced badminton player you'll know what happens), which ended up in broken strings and sore arms.
Then I restrung my Astrox 99 with a more durable string at a lower tension; the Yonex BG65.
But the same thing was to happen again, and the strings broke within two weeks.
I was not very happy, so I ultimately gave up on the Astrox for a little bit and went back to using the Yonex Duora Z Strike and Voltric Z Force II.
For that "little time" I spent not using the Yonex Astrox 99 I was refining technique and building strength. I was reading other people's reviews and opinions on the badminton racket, and it all seemed like they have the same response.
"You need to be an advanced player to be able to use the Yonex Astrox 99, and it will take time to get used to."
So when I came back and restrung my Astrox 99 with my original Aerobite strings at 28 pounds idea, I loosened up and played with as much patience as possible. And it worked! Over time, I finally got used to the racket, and now it is my main racket that I use.
Note: When I tried it with the Yonex AC402EX Towel Grip, it had a terrible impact on my ability to play. While it may not affect you or it may even benefit you, I am just noting that the towel grip is not the ultimate reason for more power. I will discuss it more in my review of the Yonex AC402EX Towel Grip. I will also discuss my thoughts on the Yonex Aerobite strings in another post as well.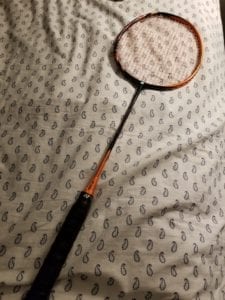 The main reason why the Yonex Astrox 99 takes so much time to get used to and proper technique to use is because of its weight. I'm running the 4U G5 variant which is the lighter one, and yet, it weighs a lot more than a 3U Yonex Duora 10 badminton racket.
See what 4U, 3U, G4, and G5 all mean here.
A few players at a club I played at also tried my Yonex Astrox 99 badminton racket and compared it to their Astrox 88D rackets. All the players noticeably saw themselves having trouble playing with the Yonex Astrox 99 and generating power with it.
One player even mentioned that my 4U Astrox 99 felt heavier than his 3U Astrox 88D, which is quite surprising!
But I'm only going to take off 1 point for being challenging to handle initially just because of how strong the racket gets after getting used to it.
Once you get used to the Astrox 99, the power rating becomes a 10/10; higher than the Yonex Duora Z Strike which currently holds the top score for me at 9.5/10.
This racket lives up to its name of relentless attack.
My smashes have been the strongest they have ever been in my life, and it's super satisfying hearing and feeling the thundering shock every time I hit a jump smash.
Clears are also super easy with this racket as soon as you loosen up and swing correctly.
The Yonex Astrox Steep Smash and Namd technology also play a role as well, and it's about the only time I'm ever going to say this. When I play with this racket, my smashes are also notably steeper than playing with other rackets, especially when paired the Aerobite strings.
In summary, the Yonex Astrox 99 receives a 9/10 for power because of how strong it is once you get used to it but loses one point due to how difficult it is to manage.
Speed
Speed on this racket is pretty good too. Better than lower end rackets, but it would only be average or a little bit above average for a high-end racket.
The leading quality that makes the Astrox 99 lose points in speed is its weight. As a heavier racket, it is more difficult to swing the racket and switch directions as fast as some lighter rackets can.
The speed isn't all that bad despite the weight of the racket. It performs more than well enough for singles, and sometimes it can work for doubles too.
Granted I am using the 4U version, which is a bit lighter, but when I play doubles, I use this racket, and it performs reasonably well. However, I do notice that it is a little more clunky than playing with some other rackets like the Duora 10 or Duora Z Strike.
Bringing the racket up is sometimes slow, and I can't kill the shuttle as fast as I want to around the front. The shuttle often hits the side of the frame when I try to play shots a little outside of my limit.
Defense is also a little slower too, and I noticed more mishits on the side of my racket from not being able to move the racket fast enough.
One of the things that make the Yonex Astrox 99 slower other than its weight is also the size of its head. It's a little smaller than the Duora 10 but larger than the Duora Z Strike, Voltric Z Force II, and the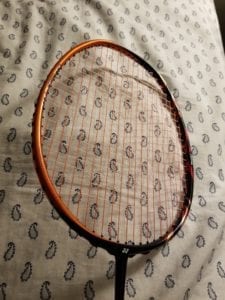 Nanoray Z Speed.
Another factor that makes this racket slower is its head heaviness. Although it isn't the most head heavy racket I have played with, it still certainly contributes to making the racket a little slow when it comes to drives and quick shots.
Price and Extras
Now for the price. Being one of the newest and most hyped rackets from Yonex, it is quite expensive. At $270 CAD or about $245 USD, its price is definitely something to consider.
If you're an advanced player with aggressive play, proper technique, and a bit of strength as well, this racket is a fit for you. Once you get used to this racket, it will undoubtedly pay dividends.
If you're a beginner or intermediate player, however, this racket may be a little too hard to use and expensive for your purposes, and thus, different rackets should be considered.
You can buy a Yonex Astrox 99 badminton racket at Amazon.com here!
There are also a few extra specs on the racket that I would like to talk about a little.
One of the important things to consider on the Astrox 99 is its stiff shaft. A stiff shaft is often associated with rackets that are meant for advanced players because of its benefit to control and power with the right technique, but unforgivingness of mishits. The Yonex Astrox 99 racket's stiff shaft is another reason why this racket is better for advanced players.
The Astrox 99 is also the first racket where Yonex implemented Namd into the entire racket to supposedly generate more power with its unique "rotation" flex. This is a bonus along with the Astrox Steep Smash if you're into racket technology.
Like mentioned above, the racket I'm reviewing is the 4U, G5 variant but it also comes in a heavier and thicker grip variant, the 3U, G4.
Conclusion
The Yonex Astrox 99 badminton racket is definitely one of the best rackets I have ever played with. Its power is unrivaled, and its speed is decent too. However, it takes time, proper technique, and strength to play well with this racket making it a choice that is more suited to advanced players.
You can buy the Yonex Astrox 99 badminton racket here at Amazon.com!
That's it for my review! If you have any questions or comments, please leave them down below. I would love to hear what you have to say. As always, good luck in your games and have a great day!