The Yonex Duora 10 is one of the most popular rackets ever created. Every tournament I play in, there are at least 5-10 people using the Duora 10. This racket is no doubt a very good racket but is it overrated?
Many sites and videos have listed the Duora 10 as the number racket in 2017 but I just didn't get that feel from it. Remember that how good a racket performs is based on the player so it's highly likely that anything I say may not apply to you at all. But nonetheless let's get into the Yonex Duora 10 review.
Summary
Power: 7/10
Speed: 9/10
Overall Rating: 8/10
Average Price: $250 CAD
Recommended for: Everyone!
Extras: Medium Flex Shaft, Even Balance, Duora Dual Optium Frame
Where to Buy: Amazon.com
Review Model: 4U G5, Yonex Supergrap Overgrip on top of factory grip, Yonex NBG99 String at 24lbs
Power
The first feeling that came to me when I first played with this racket was its power was really lacking. All my smashes and clears took especially more effort. The medium flex of the shaft and larger head just didn't feel right to me. I personally prefer stiff rackets with average or smaller heads because I feel they offer a lot more power.
A lot of power comes from how fast you swing the racket. The larger head on the Duora 10 makes it a bit slower for me to swing in which my power is reduced. Although what the Duora 10 lacks in power, it makes up for speed.
Speed
The Duora 10's weight plays a heavy factor into the speed of the racket. Among other 3U rackets, the Duora 10 is one of the lightest. The Duora 10's speed allows for me to move quicker on the court than other rackets allow me to and I fatigue much slower. It's great for defending and playing slice drop shots.
The larger head on the Duora 10 does make the speed feel a little worse but overall it's still a 9/10.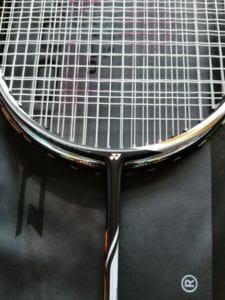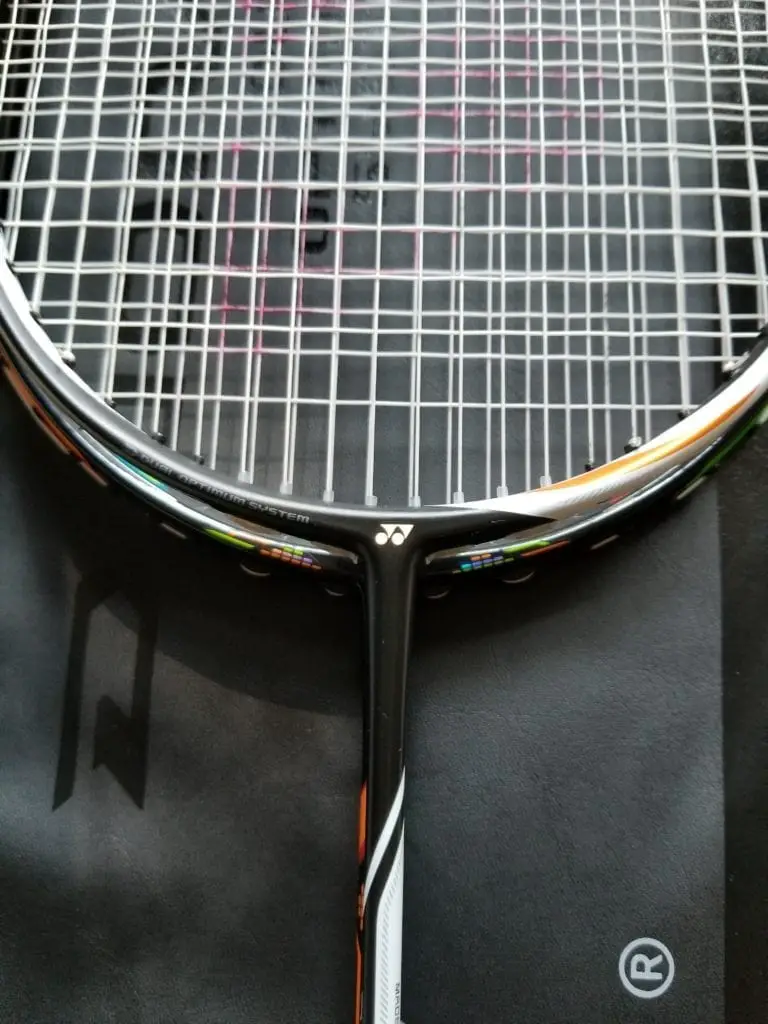 Head Comparison With The Duora Z Strike
Price and Extras
As one of Yonex's premium rackets, the Duora 10 goes for around $250 CAD. It has a medium flex shaft, is even balance, and comes in 3U most of the time. As a Duora racket, it comes with the dual optium frame technology in which one side is more optimized for backhands and the other side for forehands. When swinging forehand with the Duora 10, you should see orange if you're right-handed and green if you're left-handed and vice versa for backhand.
This racket is great for everyone because of its weight. It's light enough for quick drives and defense when playing doubles and offers enough power for singles. The larger head of the Duora 10 also makes it good for beginners, intermediate, and advanced players alike. This is because it offers a larger sweet spot making it more difficult to mis hit.
Conclusion
Overall, the Duora 10 is a great racket with top notch speed and decent power. You can buy it here at Amazon.com. The great thing about the Duora 10 is that everyone can use it! Whether you're advanced, intermediate, or beginner; singles, doubles, or mixed doubles, it is a great racket for all!
Although for me, the Duora 10 isn't as good as other people list it to be. When I play with it, the power really does lack compared to other high end rackets and the larger head feels awkward for me. But nonetheless the Yonex Duora 10 is still a great racket, it's just not for me.
Let me know in the comments what your experience is with the Duora 10 and if you have any questions or other comments, please leave them below! As always, good luck in your games and have a great day!