The Yonex Duora Z Strike was 2017's flagship racket from Yonex. In the 2017 BWF World Championship in Glasgow, Scotland, Viktor Axelsen became the world champion after beating Lin Dan in the finals with this racket.
This racket has been my main racket and a favorite for quite some time. It offers extremely great power without compromising much speed and has a great feel when playing. Here is my Yonex Duora Z Strike Review.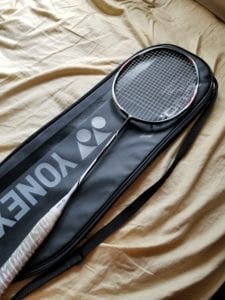 Summary
Power: 9.5/10
Speed: 7/10
Overall Rating: 8.5/10
Average Price: $270 CAD
Recommended for: Singles, Mixed Doubles' Men
Extras: Extra Stiff Shaft, Even Balance that's Slightly Head Heavy
Where to Buy: Amazon.com
Review Model: 3U G4, Factory grip, Yonex BG66 Ultimax string at 29lbs
Power
I gave this racket an extremely high rating at 9.5/10 and I mean it. Overhead shots feel extremely nice on this racket. The Duora Z Strike is also at a very nice weight for me. I have the 3U, G4 edition. Making powerful swings on this racket does not fatigue me at all but it can still produce shots that make a thunderous clap.
I believe the design of the shaft and head weight is what allows for this power without much compromise in speed to happen. This racket is extremely stiff like the Voltric Z Force II but even balance like the Nanoray Z Speed. But what's different about this racket is that it feels slightly head heavy but not to the point in which it's harder to react on the defensive. When you combine the even balance and stiff shaft of the Duora Z Strike with the weight of the racket, you get a powerful monster that's still fast.
Speed
With a speed rating of 7/10, I wouldn't say the Duora Z Strike is the fastest racket, but it's quite solid. The racket is quick in defense and driving and isn't a hassle to drag around in singles. The even balance of this racket is what allows for this.
But the weight is just a little too heavy for most effective use in doubles and mixed doubles women players although I do recommend it for singles players and mixed doubles men players because you will be smashing constantly and it's not bad for defense.
Price and Extras
But the Yonex Duora Z Strike doesn't come with all this cheaply. At an average price of $270 CAD, it's one of the most expensive rackets from Yonex! Though I firmly believe this racket is worth it especially if you're a singles badminton player because you get so much without much compromise. The Duora Z Strike usually comes in 3U variants and is an even balance (that's slightly head heavy) racket with an extra stiff shaft.
As a Duora series racket, you probably wondered about its dual frame system. If you haven't heard about Duora's dual frame system, I'll give a quick overview. Basically what it does is that it makes one side optimized to play forehands and the other side optimized to play backhands. It's a little less obvious than the Duora 10 which side is for which so I'll explain it right here. When you play forehands you should see black facing you if you're right-handed and white if you're left-handed and then the exact opposite for backhands. It's as simple as that.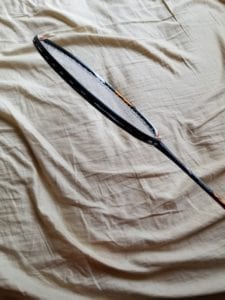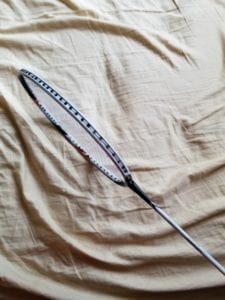 Conclusion
You can buy the Yonex Duora Z Strike here at Amazon.com. This racket has been one of my favorites and the main racket I played with for quite some time. The extra stiff shaft and even balance frame that's slightly head heavy appeals a lot to my feel. This racket's power is unbelievable and it doesn't even lose much speed either. I truly believe that it's one of the best rackets for singles players.
If you want to tell me and others about your own experience or have any questions about this racket, please leave a comment below! As always, good luck in your games and have a great day!