The Voltric Z Force II was my second ever racket and I loved it. I was smashing much faster and playing shots effortlessly. Honestly this racket was my first time ever playing with a premium racket and since then I have learned much about rackets and how to choose them. I have a post on how to choose badminton rackets but nevertheless let's jump into the Yonex Voltric Z Force II review.
Summary
Power: 9/10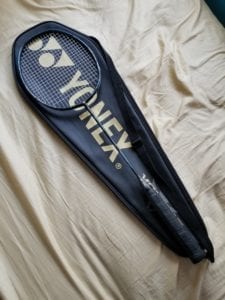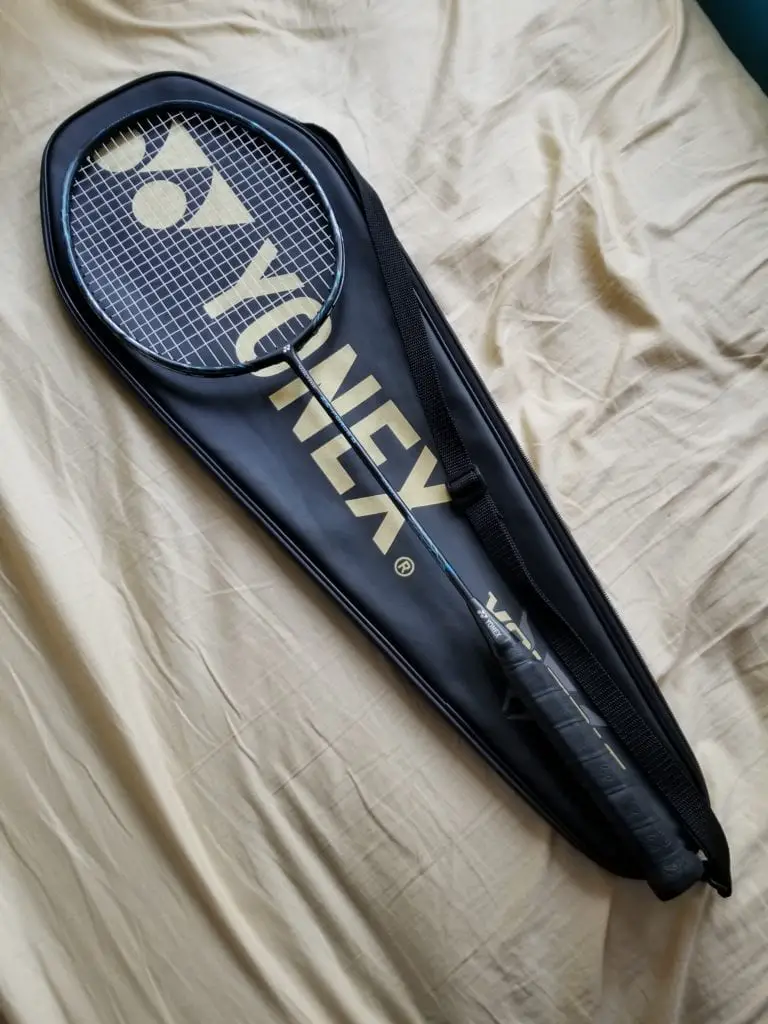 Speed: 6/10
Overall Rating: 7.5/10
Average Price: $240 CAD
Recommended For: Singles, Backcourt Mixed Doubles
Extras: Thinnest Shaft, Smaller Head, 3U and 4U
Where To Buy: Amazon.com
Review Model: 4U G5, Factory grip, Yonex NBG99 at 24lbs
Power- Best In Class?
Arguably the best thing about the Voltric Z Force II is its power. The Yonex Voltric series is one dedicated to head heaviness and power and the Voltric Z Force II embodies that completely. Clears and smashes are made effortless and they feel really good. This is because of its head heaviness, weight, and extra stiff shaft.
My Voltric Z Force II is the 3U, G4 edition. The weight is about 88g and it is one of the most head heavy rackets Yonex has made. I absolutely love the stiff shift on the Voltric Z Force II as well. I'm a personal fan of stiff shafts because they just seem to make your shots stronger and more accurate and that's what the Voltric Z Force II does!
But at what compromise?
Speed- The Compromise
Due to the racket's head heaviness, the Voltric Z Force II is slower in terms of moving it around. This makes it harder to defend. Another thing I have noticed with this racket is that my backhands are just not as strong despite it being a power racket so definitely beware if your backhand is especially weak.
Although the heaviness of this racket is a benefit to power, it brings down the speed category.
Another thing to note is that carrying a heavy racket brings down your stamina as well. Running around on the court and smashing will tire you out fast with this racket so it's a good idea to build strength for this racket.
But even after bashing the racket's speed, it still has some good qualities in this category. The thin and stiff shaft allows for the racket to cut through the air fast and allow you to bring your racket up at an above average speed so it's all about getting used to it.
Price and Extras
You usually find the Yonex Voltric Z Force II for around $240 CAD and comes in 3U, G4 and 4U, G5. Some other features of the Voltric Z Force II is that it has the thinnest and stiffest shaft on the market. The head of the racket is also slightly smaller than other rackets making the sweet spot to hit shuttles smaller. The combination of the stiffness and the slightly smaller head makes this racket rated for advanced players. It will take a little time to get used to.
I recommend this racket for singles players and mixed doubles mens players, though not as much. Because singles usually has less smashes than a doubles game, this is racket is great because quickly switching to do quick blocks is uncommon.
As for mixed doubles mens players, I recommend it a bit less but it's still okay. Mixed doubles is a bit slower paced than regular doubles and consists of a lot more net play and drop shots. As a guy, you will defend against less smashes too since mixed doubles players like to smash towards the girl. But since it's doubles, it's still faster paced than singles so the Voltric Z Force II may be harder to use.
Conclusion
With an average price of $240 CAD without the strings, the Voltric Z Force II is by no means cheap, but it is definitely worth it for its price. You can buy this racket on Amazon.com. As one of Yonex's premium rackets, its ratings are exceptional. A 9/10 in power and a 6/10 in speed gives it a recommendation for singles players and mens mixed doubles players. The thin and stiff shaft also gives this racket a great feel. The Voltric Z Force II has been a favorite for some time. It's like an old classic.
This is my review on the Voltric Z Force II and if you have any questions or comments, please leave them below. I am always open to review suggestions and I hope to give you as much information as possible. Good luck in your games!