The Yonex Aerobite badminton string is the first of a revolutionary string created by Yonex, where your racket is strung with two different strings instead of being uniform all around. But does the new stringing strategy really make a difference? Find out in my Yonex Aerobite badminton string review.
Summary
Overall Rating:  8.5/10
Power:  9.5/10
Control:  9.5/10
Durability:  4.5/10
Recommended For:  People Who Want The Best
Where To Buy: Amazon.com
Power – A Strong Suit
This is the most powerful string I have ever played with. Smashes with the Yonex Aerobite badminton string were much more potent than some of the other strings I have used in the past.
My opinion on the Yonex Aerobite's power is a bit controversial as to what many people think, however.
I gave a rating of 9.5 out of 10, which is my highest rating I have ever given on a badminton string review so far. Many people think that the Yonex Aerobite doesn't match up in power to strings like the BG66 Ultimax or the BG80, and Yonex has even listed the string as a control string.
But I'm afraid I have to disagree.
When I play with the Yonex Aerobite on my Yonex Astrox 99 compared to other strings, my smashes hit a lot harder, and other shots like clears and drives are a lot easier to play.
For me, the Yonex Aerobite is the badminton string that generates the most power I ever played with.
Just as a cool note, Kento Momota actually uses the same stringing and racket combination that I really like. He pairs up the Yonex Astrox 99 and the Yonex Aerobite strings together, and it has done him well, allowing him to claim the world number one spot at the time of writing.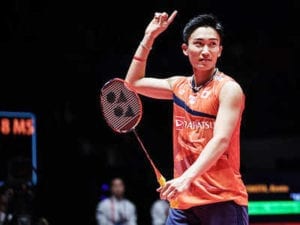 Top-Notch Badminton Control
The control of the Yonex Aerobite is where the string really shines. It was designed by Yonex specifically as a string that's good for control play.
I was actually quite surprised by my ability to control various shots with Yonex Aerobite.
When I first heard of a string that is the combination of two different strings, I thought it would be lackluster in control. I thought the unevenness between the two different strings would make the shuttle move awkwardly and not in the way that you would like it to move.
I was utterly wrong.
The control of the Yonex Aerobite badminton strings is fantastic.
All my net shots, smashes, drops, etc., are all super tight to the net when I play with the Yonex Aerobite strings. I've produced the most net rolls with this string compared to all the other ones I have tested. For net shots specifically, the very design of combining two different strings into one actually helps you produce better spinning shots.
Additionally, my steepest smashes and drops were with the Yonex Aerobite strings as well. It was almost impossible to respond to my steep smashes and drops from a lot of my club members.
It was effortless to create the shots that I wanted to create with the Yonex Aerobite strings.
Durability – The Weakness
Some things must be sacrificed when you want to be the best at something. That saying goes towards the Yonex Aerobite strings.
The Yonex Aerobite string is the most powerful and best control string I have played with. But, it's also the worst string when it comes to durability.
These strings break extremely fast. On average, I can only play with the string for two weeks before I have to change to a new string.
It sucks because I love the Aerobite strings so much. Still, it's getting costly and time-consuming to replace the strings on my racket. On average, the string only costs about $10, which is the same as many other strings. However, I have to replace it two times faster than all other strings, so it ends up costing me more.
Part of the reason the durability is so weak is that it uses a combination of two strings. One of the strings, the main is 0.67 mm thick and the other, the cross is 0.61 mm.
Apart from the fact that 0.61 mm is the thinnest string Yonex has ever created, having a combination of two strings of different thickness causes the two strings to "eat into each other" as you play weakening the durability of the string very quickly.
That's why I have the Yonex Aerobite's string rated at 4.5 out of 10.
If you would like a much more durable string, check out my review on the Yonex BG65 badminton string.
Conclusion Of The Yonex Aerobite Badminton String Review
Despite the Yonex Aerobite's durability flaw, it still remains as one of my favorite strings. It is an absolute beast in terms of both control and power. I have never experienced anything like it.
Do you want strong smashes, effortless clears, tight spinning net shots, steep drops, and more? Get the Yonex Aerobite strings. But do beware that it will break quite fast.
For me, playing with the Yonex Aerobite strings is like a sweet treat. I'm not rich enough to continually replace my strings, so the Yonex Aerobite string has become one that I solely use for special occasions like tournaments. But eventually, I might move into using the Yonex Aerobite strings in all my play when it becomes more convenient to string my rackets.
Thanks for coming to my Yonex Aerobite badminton string review. I hope you enjoyed this review and learned something new. If you have any questions or comments, please leave them down below. As always, good luck in your games and have a great day!