Kento Momota is the recent star in the badminton world. Being in all the finals of the tournaments he played in 2018, and winning half of them, he is doing very well. But his most recent achievement was being crowned the winner of the 2018, World Championships. Let's dive into what makes Kento Momota so good at badminton.
Player Specifications
As of September 21, 2018,
Date of Birth: September 1, 1994
Height: 175cm
Country: Japan
Racket Model: Yonex Astrox 99
World Ranking: 2
Highest Ranking: 2
Career Titles: 24
Dominant Hand: Left
Type of Player: Mens Singles
Strengths and Weaknesses
Strengths
As a player who has won the 2018, World Championships as well as winning a gold in the 2018, Asia Championships, Kento Momota's greatest strength is his all around play. Let's get a little more specific.
After diving a little deeper, Kento Momota's greatest strength is his recovery and speed of his footwork. He is extremely efficient when he moves around the court making it very difficult for his opponents to get through. When returning push shots, he keeps low to the ground and tries to use as little energy as possible by stretching out and not jumping. Having this quickness also gives advantages to his attack.
When Kento Momota attacks, it can be very scary. Kento Momota can play very powerful smashes and then follow them up with either a deceptive net shot, push shot to the back, or a net kill. This makes it very hard for the opponent to anticipate which in effect, tests their speed and reaction time.
But a keyword here is when. Even with fast footwork and both very good defense and attack, Kento Momota still has his weaknesses.
Weaknesses
Kento Momota does not attack as much as people would expect him to. He has the aggression of the badminton superstar, Lin Dan in his prime time but Kento Momota cannot take advantage of it too much. This was pointed out by the commentators in the 2018, World Championships in his game against Shi Yu Qi. He just didn't pull out the usual aggression. As seen from his braces and compression sleeves he wears all over his body, his physical condition is just not up to par. This means that if you have a defense that surpasses his attack, you can stall Kento Momota out.
This was shown by Anthony Sinisuka Ginting who had amazing defense in the 2018, China Open final against Kento Momota. Blocking multiple net kills and smashes from Kento Momota frustrated him and gave Ginting the psychological advantage.
But once you've turned Kento Momota into his defense state, then what do you do? Believe it or not but the wall does have some holes. Kento Momota loves playing straight shots. This makes him moves towards the side of his opponents much more which opens up the other side. As a result, cross court shots are highly effective against Kento Momota.
Shown by Lee Chong Wei in the Malaysia Open final, if you play straight shots against Kento Momota for a little and then suddenly changing your attack, it can put Kento off balance. One shot that Kento Momota has difficulty returning is a flat push to his backhand.
Play Style
I've hinted a little about Kento Momota's play style in his weaknesses section. As mentioned above, Kento Momota loves playing straight shots but likes to switch it up every so often. The exact same strategy Lee Chong Wei used against him and the strategy Lin Dan uses.
Kento likes playing straight shots to the forehand until he forces a cross court lift or a bad lift in which he likes to smash straight or cross court onto the opponents backhand side. If the opponent returns his smash, Kento often plays a deceptive net shot instead of a net kill. This is used to burn out the opponent if the opponent does decide to go for the shot as well as adding variations to his play.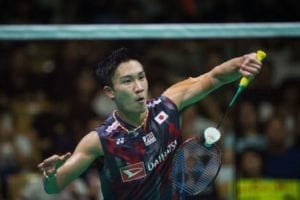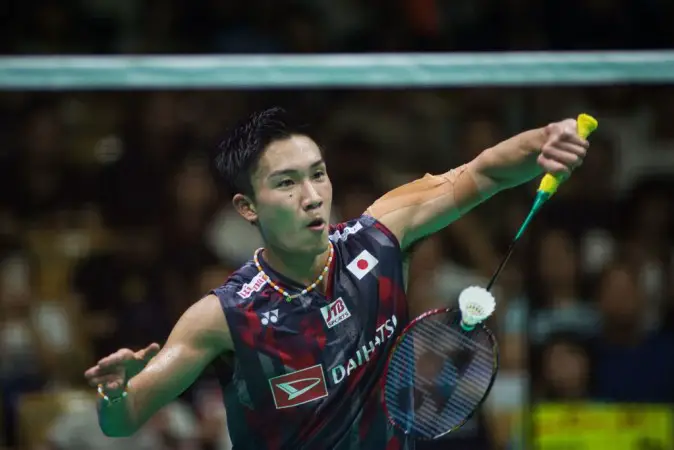 When Kento is on the offensive, he plays a lot of smashes and drives with the occasional deceptive net shot in the strategy I described above. This is his optimal stance. There are a few situations where he falls back onto other strategies, specifically when he is playing against tall players or when he becomes fatigued and is forced onto the defensive.
When playing against taller players such as Chen Long and Viktor Axelsen, Kento Momota prefers to drop and net shot and tries not to lift until the opponent gets too close to the net. This is something we can apply in our games as well. Tall players generally use more energy bending down to lift or play net shots which means you can tire them out much faster if you play a lot of drops and net shots. It's also because line smashes and high shots become more ineffective due to longer limbs.
The other style of play Kento Momota pulls out a lot is his defensive play. This is when he wants to stall out his opponents and it works extremely well against players with weaker attacking play, players that lose psychologically, and/or players that have less stamina. Playing long rallies forces his opponents to endure and it also causes them to weaken if Kento is able to return to shots easily. Kento Momota usually uses this strategy against players in group stages when there aren't as many highly experienced players. We can also see this strategy in action against Shi Yu Qi in the 2018, World Championships. During the rallies, it was very easy for Kento Momota to return Shi Yu Qi shots and it led to a solid win for Kento Momota. You can even see the despair in Shi Yu Qi's emotions.
Achievements
With 24 career titles as of September 21, 2018,, Kento Momota may not have the most titles, but he's a recent star. As one of the most promising players to win the 2020 Tokyo Olympics, let's see what he has so far.
2018, Nanjing World Championship Gold Medal
2015 Jakarta World Championship Bronze Medal
2018, Asian Championships Gold Medal
2018, China Open Silver Medal
2018, Japan Open Gold Medal
2018, Indonesia Open Gold Medal
2018, Malaysia Open Silver Medal
As you can see, Kento Momota has only been playing in the top international scene recently at the age of 24 years old. Due to a suspension for illegal gambling, he was not able to play in the 2016 Rio Olympics and other major tournaments. He came back from suspension during mid-year 2017 which he played a few smaller tournaments like Canada Open and Dutch Open in which he did very well in. As the current world champion, Kento Momota's badminton future will definitely hold a lot for him.
Conclusion
After studying Kento Momota, it seems I've put a lot more attention on how fast my footwork is as well as how I play. Pro players can always teach us a lot and I hope this article has given you some ideas on what can make you better. Supposedly there are barely any players that can stop Kento Momota right now. With this in mind, who do you think will win the 2020 Tokyo Olympics? Leave your answer in the comment section below.