When you're on a budget, getting the best shoes, racket, shuttles, and clothes just isn't feasible. So what are we supposed to buy first?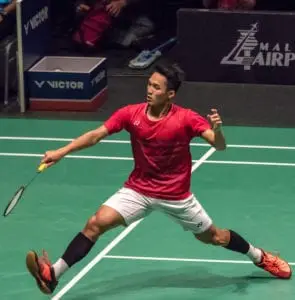 If your answer was the racket, or anything else other than shoes, then you would be wrong. Surprisingly, or perhaps not so surprisingly, the shoes are the most important. I'll explain why.
1. Shoes
Most people think the racket is the most important when buying badminton equipment because they'll allow you to hit the best quality of shots right? The biggest problem is how do you hit those shots without being able to get there?
That's where the shoes come in. Investing in a pair of quality badminton court shoes can be very beneficial. You will slip less often on a court and there is more cushioning for fast paced movements which will both help prevent injury by a drastic measure.
Usually court shoes around $50-$100 should be fine, just don't play with everyday wear.
2. Rackets
After you have a good pair of court shoes, it's time to get a racket. When getting a racket, it can be very
difficult. There are many factors that need to be taken into consideration such as weight, flexibility, and price. Then after you buy the racket itself, you may need to consider what strings would be good for you.
I have two articles that I recommend you to go check out: How To Choose A Badminton Racket and How To Choose Strings and Tension.
You can get badminton rackets starting way low at $10 all the way to $300 plus and the variability of rackets is huge. This means you'll have to do some searching. If you have no idea what racket is good for you, I recommend you go find a $50-$150 racket from either Yonex, Li Ning, or Victor. It will help give you a feel if you're a beginner and eventually as you play more you will figure out what racket is truly the best for you.
3. Nets and Shuttles
If you train at a club, a racket, a pair of court shoes, and of course, clothing will be enough since they will most likely provide all the nets and shuttles. But if you play at any old gym or you're just playing drop-in, you'll definitely need shuttles and occasionally a net as well.
I'm going to start off with shuttles. The first thing you must consider is whether you should use feather or nylon shuttles. A quick comparison between the two shows that nylon shuttles are cheaper and more durable but feather shuttles are the official shuttles used in competitions.
Then once you have decided that, you'll have to get into what kinds of nylon and feather shuttles should I buy. For feather shuttles I've personally used Yonex, Victor, and Chao Pai and for nylon you should just stick to Yonex Mavis 300s or 350s.
If you have never played with feather shuttles before, you should check out this article: How To Properly Play With Feather Shuttles.
As for choosing a net, there isn't very much to it. Just make sure it's a badminton net and that it's still usable.
4. Clothes
Clothing is one of the least important parts of badminton. You don't need to spend 100s on high quality Yonex apparel, any sports t-shirt and shorts will do.
But for socks, if your budget allows for it, getting good socks can actually make a difference. Because there is more cushioning on your feet, you won't get blisters as easily which will allow you to play longer.
As long as you have a good sports t-shirt, shorts, and socks, you will be fine for this category.
A quick note is eye wear. If you wear eye-glasses, it may be recommended to have some sports glasses or contacts. During badminton, normal eye-glasses drop very easily which will become very annoying and potentially costly if they break.
Next Steps
A quick summary before we go, when you're buying badminton equipment, spend the most on shoes, then racket, then shuttles and nets, and then clothes. Once you have this down, here are your next steps.
Before you buy something, you might want to look at reviews. There are countless reviews on badminton products at Get Good At Badminton so I definitely suggest you to go check those out along with the articles I mentioned above. If you don't have a club yet I would also recommend that you find somewhere to play badminton.
Signing up for some sort of program is my recommendation, badminton is more fun with more people!
If you have any questions or comments, please leave them below and as always, good luck in your games and have a great day!