As a follow-up to my article on the badminton warm-up routine from Thailand, it only makes sense that I share the Thai badminton cooldown routine. Both routines are vital to preventing injury and soreness, with the cooldown routine focusing on recovery and preparing you for the next training session.
So without further ado, let's jump into this article on how to improve muscle recovery with the badminton cooldown routine from Thailand.
Why Having A Proper Cooldown Routine Is So Important
In my article on the Thailand badminton warm-up, I talked about how one of the most shocking experiences when I went to train at Thailand's Banthongyord Badminton School was that the players had virtually no injuries despite training six hours a day, six days a week.
A significant factor why Thai players were able to recover so quickly and be ready for intense training sessions every day was their cooldown routine.
A proper cooldown routine will help your muscles recover better when you're resting, while a poor cooldown routine, or lack of one, will leave you sore for days.
Before I trained in Thailand, I used to get sore a lot. My legs would hurt quite a bit after every training session, and I required a rest day after each training day. This reduced the amount I trained and hence, the amount I could practice.
After my two weeks of training in Thailand, I rarely get sore. I implemented the same routines from the Banthongyord Badminton School in my own training, and it has allowed me to continue training six days a week without any issues.
You probably understand how important having a good cooldown is by now, so let's talk about the actual routine.
Banthongyord Players And Coaches Love Foam Rolling
Like foam rolling is done at the start of every training session, badminton players at the Banthongyord club also start their cooldown routine with foam rolling.
It's the same foam rolling routine as the one we do in the warm-up sessions.
First, we start with rolling the calves. After going about ten reps on each leg, we move onto the hamstrings and go about ten reps again. Then it's the shins, quads, side of your legs, lower back, and upper back.
Doing this at the end of every training session will help reduce muscle soreness significantly and allow you to train much more at high intensities.
Post Training Stretches
In addition to foam rolling, stretching at the end of every training session is very important. The many benefits of stretching are similar to foam rolling.
A good post-workout stretching session will improve blood flow and help your muscles recover faster. This will reduce your soreness and aches, setting you up for your next training session.
I've included an infographic below of six common stretches we do after playing badminton. Hold each stretch for about 15-30 seconds.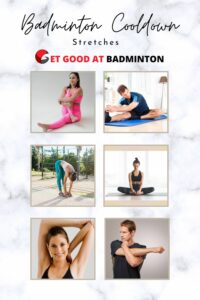 Bonus: End Of Session Strength Training and Milk
Before we conclude this article, I also want to talk about a routine that's done at the end of every Banthongyord badminton training session but is not necessarily a part of their cooldown routine.
The first activity that's done at the end of every badminton session is a strength training routine consisting of squats and occasionally squat jumps.
After finishing all our drills, the coach would get us into two rows and have us do five sets of 20 squats. These squats are generally done pretty slowly. I would say each squat takes about 3 seconds to do.
The second thing I noticed was that every player had a bottle of milk they would sip on during their foam rolling and stretching routines. The reasoning behind drinking milk right after training makes a lot of sense. Your body requires nutrients like protein after exercise to rebuild your muscles, and milk is an excellent source of those nutrients.
Of course, you might have dietary restrictions or things that prevent you from drinking milk, which is fine. Milk is not the crucial thing here; it's getting the proper nutrients that are the most important.
Any protein shake, soy milk, almond milk, etc., will do the trick.
How To Improve Muscle Recovery With The Thailand Badminton Cooldown Routine
That's it for my article on how to improve muscle recovery with the badminton the Thailand badminton cooldown routine! I hope you can take away some activities for your sport cooldown routines. Try some of these exercises, and let me know how it goes!
As always, if you have any questions or comments, please don't hesitate to leave them below, and I'll get back to you as soon as I can!