Whoa, this year, the strength of the Japanese National Badminton Team has been impressive! They've indeed grown quite a bit and won a significant amount of titles that had never been won before. Japanese badminton players are certainly on the rise!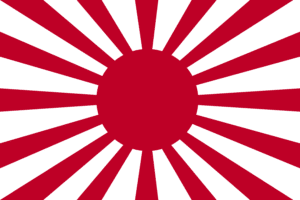 What sparked this growth and increase in skill level though? I'm going to talk about that in this post.
Recent Results
First, let's look at some of Japan's recent results in tournaments.
The most recent major tournament as of April 29, 2019, was the Asia Championships. This tournament is of a little bit different style than tournaments such as World Tours or World Championships as it focuses around the team. Japan won the competition grabbing 3 golds versus China's 2. China, however, did have more total medals than Japan.
This tournament also had some eye-opening results with Akane Yamaguchi becoming the first Japanese female player to secure an Asian Championship women's singles title. Hiroyuki Endo and Yuta Watanabe also crushed the first seeds Marcus Fernaldi Gideon and Kevin Sanjaya Sukamuljo from Indonesia in straight sets of scores, 21-18, 21-3; a significant upset from Japan.
Let's go a little further back and take a look at the results from the 2019 Singapore Open. In this tournament, Japan secured every single title except for women's singles and mixed doubles. Even so, in the women's singles sector, Japan's Nozomi Okuhara still managed to secure second place, and Akane Yamaguchi still reached semi-finals.
Some of these players have been remarkably consistent with winning as well which I will talk about in the notable player's section.
How Japanese Players Are Getting Better
The big question is, how are the Japanese players improving so fast? It all starts with their head coach, Park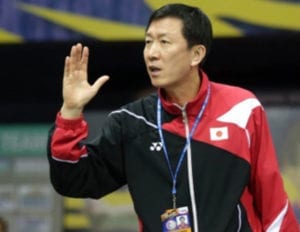 Joo-Bong.
This man was actually a doubles player from South Korea that won the 1992 Barcelona Olympic games! During his time as a badminton player, he has won multiple World Championships and Asian Games and was considered one of the greatest doubles players of all time. Park Joo-Bong didn't just play doubles though, during his early career, he displayed immense skill as a singles player and still holds the South Korean national record of 103 consecutive wins in men's singles!
Now as the head coach of Japan's national team, he is undoubtedly qualified for the role.
But it wasn't his immense skill or technique that actually improved the Japanese National Badminton Team. While it could have certainly boosted each player's individual ability, Park Joo-Bong contributions were more focused on the psychology of the players.
He even says, "Each individual player in the Japanese National Team is very strong, they just don't have the confidence."
Before Park Joo-Bong, Japanese players were recommended to play smaller tournaments that they could win so that it seems like they're right from the number of titles they earned. While this method did get Japan multiple medals from small tournaments, most players could never compete at the highest level.
That's when Park Joo-Bong comes in. When Park Joo-Bong becomes the head coach, he encourages all players on the team to play higher level tournaments. It was under the thought that the only way for the players to get better was to play against the best, fight tough fights, and learn from them.
Throughout 2018, this strategy worked significantly well. There have been many rising players from Japan that we may have never known unless they started playing larger tournaments.
The Japanese would also surprise themselves playing in the major tournaments. Many of them found that they could hold up against the best players in the world and it gave the players a boost in confidence and lowered their anxiety when it came to playing in the larger tournaments.
Let me show you a few examples of Japan's success.
Notable Singles Players
One of the first players that will come to mind when thinking of badminton players from Japan is Kento Momota. This player was not necessarily a product of Park's reform as Kento Momota had always been a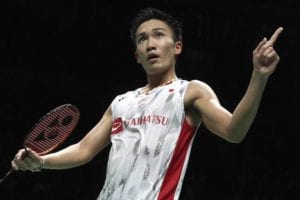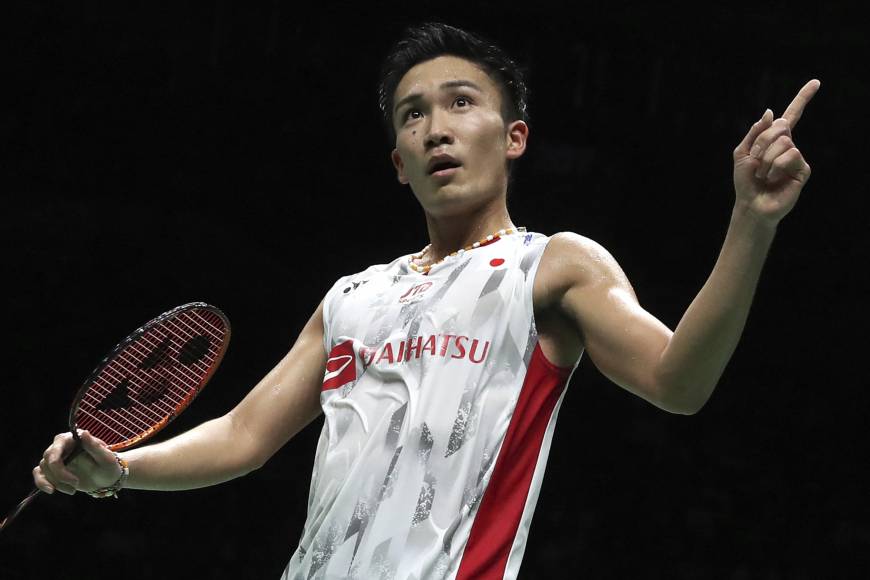 solid player since his international debut.
Many people do not know this, but before Momota's suspension due to illegal gambling, he was already ranked number 2 in the world. And only months after coming back from suspension, the left-hander would win the 2018 World Championships against Shi Yu Qi in a compelling manner.
Kento Momota has continued to show his dominance in various tournaments including the recent Asia Championships and Singapore Open. Right now, he is ranked number one in the world and one of the top contenders to win the 2020 Tokyo Olympics.
On the women's side, we should watch for Nozomi Okuhara, 2017 World Champion, and Akane Yamaguchi, the first Japanese player to become rank number 1 in the world. These two players have been consistently reaching semi-finals or higher in major tournaments and threats that other countries must be worried about.
These three players, Kento Momota, Nozomi Okuhara, and Akane Yamaguchi and Japan's most influential singles players.
Notable Doubles Players
Doubles is where we can see Park Joo-Bong's efforts paying dividends.
The central doubles pair to watch is Takeshi Kamura and Keigo Sonoda. Early in this pair's career, they have been playing tournaments categorized as the BWF International Challenge/Series. Later throughout their life, they started playing larger tournaments but to a very minimal degree. It was only until 2018 when they would begin to play a lot more competitions and honestly, this pair surprised the world and themselves when they beat the Indonesian pair Kevin Sanjaya Sukamiljo and Marcus Fernaldi Gideon in the 2018 World Championships.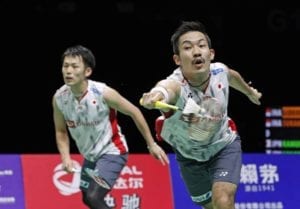 Although at that time, the adrenaline was extremely high for the pair, now they are stably competing at the top of the ladder in men's doubles.
The other men's doubles pair that must be watched is Yuta Watanabe and Hiroyuki Endo. These two players have only recently been paired up and thus, their beginning of the season was not too impressive. However, just recently they managed to give the world number one Kevin Sanjaya Sukamiljo and Marcus Fernaldi Gideon the worst defeat of their careers with a score of 21-3 in the second game.
If the two players continue their dominance as shown in that match, they could undoubtedly rise up to be one of the best if not the best.
The Japanese have lots of women's doubles pairs. They sit at 4 doubles pairs. I would say the two uprising pairs to watch are Yuki Fukushima with Sayaka Hirota and Mayu Matsumoto with Wakana Nagahara. Although these players have not produced any new shows of dominance, they are certainly creeping up the ladder.
Another doubles pair that must be watched are the Rio Olympic Champions, Misaki Matsutomo and Ayaka Takahashi. However, despite their Olympic victory, this doubles pair has not been consistent enough and haven't shown much growth recently. Things can definitely turn around at any time though.
As for mixed doubles, this is an area that Japan can genuinely improve upon. Their leading pair Arisa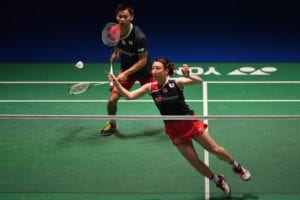 Higashino and Yuta Watanabe have shown extremely aggressive play and won the All England in 2018 against current number ones, Zheng Si Wei and Huang Ya Qiong from China. Unfortunately, it seems that other mixed doubles players have caught onto Arisa Higashino's weak defense and thus the Japanese pair have not performed well recently.
Conclusion
What do you think about Japan's badminton growth? The players in the singles and men's doubles sector are certainly going to be players that we should keep eyes on as the year continues. I hope that other players in other categories will also find their pacing and become top players.
2019 is truly an exciting year for badminton. I've found out about so many new players taking over the stage fighting for full reign over the number spot.
Which player are you most looking forward to watching?