The current world number 1 women's singles player has a unique playstyle allowing her to win tournaments consistently. Tai Tzu Ying from Taiwan is a player that has been doing very well currently.
Having played badminton at an international stage at the age of 15, Tai Tzu Ying is a very spontaneous player. Let's see what else Tai Tzu Ying can do.
Player Specifications
As of November 23, 2018,
Date of Birth: June 20, 1994
Height: 163cm
Country: Taiwan
Racket Model: Victor Thruster F
World Ranking: 1
Highest Ranking: 1
Career Titles: 23
Dominant Hand: Right
Type of Player: Women's Singles
Strengths and Weaknesses
Strengths
In badminton, agility is one of the best attributes you can have. Tai Tzu Ying's footwork is very light and allows her to get to the shuttle very well. When watching Tai Tzu Ying play, it's like watching a rabbit bounce everywhere.
With this agility, she plays a very strategic, offensive, and slow game. Yes, slow. Contradictory, isn't it?
Tai Tzu Ying isn't about quick smashes and fast push shots, but she would instead push her opponent off balance playing a variety of slice drops and clears. She also plays a strategy of restricting movement where occasional rallies she would play only drops or clears in the beginning and then switch after a while.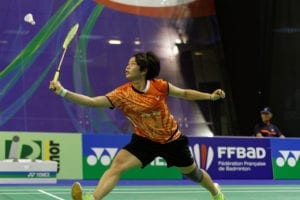 For this strategy, Tai Tzu Ying adds in a variety of deceptive shots. From various slices and net flicks, she can further weaken her opponent's stability and then eventually kill the shuttle.
Some of her best deceptive shots are her forehand slice drop, forehand net flick, and her backhand push shot. For each of these, her initial movement looks like a different shot, and she makes almost no changes when she changes the trajectory. These make her shots look magical.
Weaknesses
Although Tai Tzu Ying has been the number 1 player for some time, she does come with her own weaknesses
One of her weaknesses is being pushed to the backhand when she isn't ready for it. It's tough for Tai Tzu Ying to move back and play a good return backhand shot. It will often be a little too high, and the opponent is able to net kill.
But when is Tai Tzu Ying forced into these positions?
When the opponent out anticipates and takes control, Tai Tzu Ying is forced into these positions. Eventually, players who play against Tai Tzu Ying enough, will get a feel for her deceptions and be able to predict them. Tai Tzu Ying doesn't account for her deceptions to be predicted which in turn, she isn't ready for these shots.
Playstyle
We've already mentioned that Tai Tzu Ying is a very strategic player with lots of deceptions. Her playstyle is a very controlling playstyle. She sets the pace of most of her rallies and pushes her opponents into a reactive state.
When you couple superior anticipation with strategy, you'll be able to push your opponents very hard and save a lot of energy. This is what Tai Tzu Ying does. It's almost like she always knows what the opponent is going to do except for those times we mentioned in the weakness section.
This kind of playstyle is much like the current Lin Dan. Slow paced, anticipation based, and controlling. These strategies of restricting movement are beneficial in putting your opponent off balance.
Achievements
Being a relatively young player at the age of 24, Tai Tzu Ying only has 23 titles with none of them being a world championship or Olympic gold medal. But with her current prowess, she is destined to win lots more. Here are some of her current achievements:
2018 Denmark Open Gold
2018 Chinese Taipei Open Gold
2018 Indonesia Open Gold
2018 Malaysia Open Gold
2018 All England Open Gold
2018 Indonesia Masters Gold
With all these world tour titles, Tai Tzu Ying is also one of the most profitable players with prize money at $1,110,755. That's on par with Lee Chong Wei, and we haven't even taken sponsors into consideration!
Conclusion
One of the young badminton superstars, Tai Tzu Ying, is sure to make a significant impact on the badminton world.
Her strategic playstyle and deceptive play make her one of the most unique and deadly players in women's singles. Not much powerful smashing and driving; just out-maneuvering her opponents slowly.
If you have any questions or comments, leave them in the comment section down below and as always, have a great day!