On Monday, April 29, 2019, the qualification period for the 2020 Tokyo Olympics has begun! Only 172 elite badminton athletes will make it in, and it will be an even harder competition to win the 2020 Tokyo Olympics. Here are my predictions as of May 4, 2019, on who will win the 2020 Tokyo Olympics.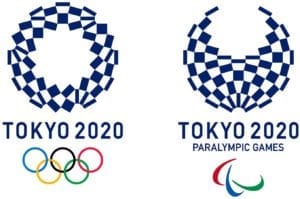 In this post, the rankings are made solely out of my own opinion which makes it subject to disagreement and as such, I would love to hear what kind of rankings you have in the comment section down below!
Men's Singles
Badminton men's singles is arguably the most highly contested as the number one player in men's singles would usually be considered the best player in the world. Tokyo 2020 provides a significant shake-up in terms of the top players going into the Olympics with young players rising and old players taking a leave.
Let's start off with my number one ranking, Kento Momota.
1. Kento Momota (Japan)
Kento Momota is the current world number one from Japan, and although he may have faltered recently in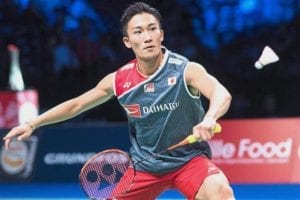 a few smaller tournaments, his win in the 2019 Asia Championships shows that he is still among the best in the world. As the current world champion and number one player in men's singles, most people have placed their bets on Kento Momota to win the Tokyo 2020 Olympics.
If you want to know why he is so strong, check out this player study of Kento Momota.
2. Shi Yu Qi (China)
Shi Yu Qi is definitely one of China's rising stars. Sitting at rank number two in the world, Shi Yu Qi is undoubtedly a significant contender to win the Olympics. However, Shi Yu Qi's inconsistency and his negative win ratio against Kento Momota is holding him back right now pulling him back a little.
Check out my player study of Shi Yu Qi!
Honorable Mentions:
Although Kento Momota and Shi Yu Qi are my top two picks for winning the Olympics, several players could shake the standings and must be considered.
Lin Dan (China)
While many people thought that Lin Dan was well on his way out from his poor performance last year, he surprised the crowd tremendously when he won the 2019 Malaysia Open and defeated top players like Shi Yu Qi, Chen Long, and Chou Tien Chen. But for Lin Dan to win the Olympics, he would need to get lucky in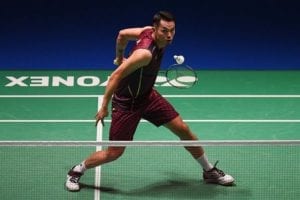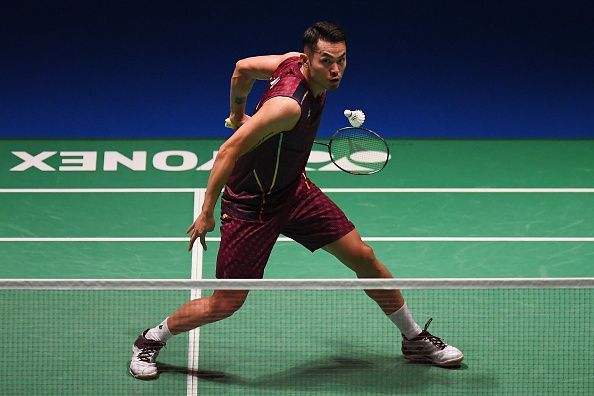 the draws so he could preserve energy to play the aggressive style that won him the Malaysia Open in the final games of the Olympics.
It will be a tough fight for him to get his third Olympic gold medal in his fourth Olympics.
Anthony Sinisuka Ginting (Indonesia)
Anthony Sinisuka Ginting is one of Indonesia's most promising players. He has had a few encounters with Kento Momota many of which gave Kento Momota a challenging time. However, Ginting seems to be relatively inconsistent and has not pronounced his ability to win significant tournaments yet.
Chen Long (China)
As the reigning Olympic champion from China, Chen Long is still someone that should be considered when ranking the top contenders to win the 2020 Tokyo Olympics. But from his recent poor performance, it is questionable as to whether or not Chen Long can maintain his reign as the Olympic champion.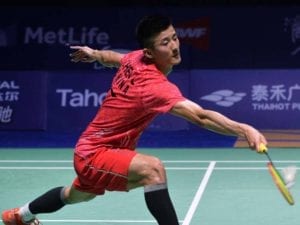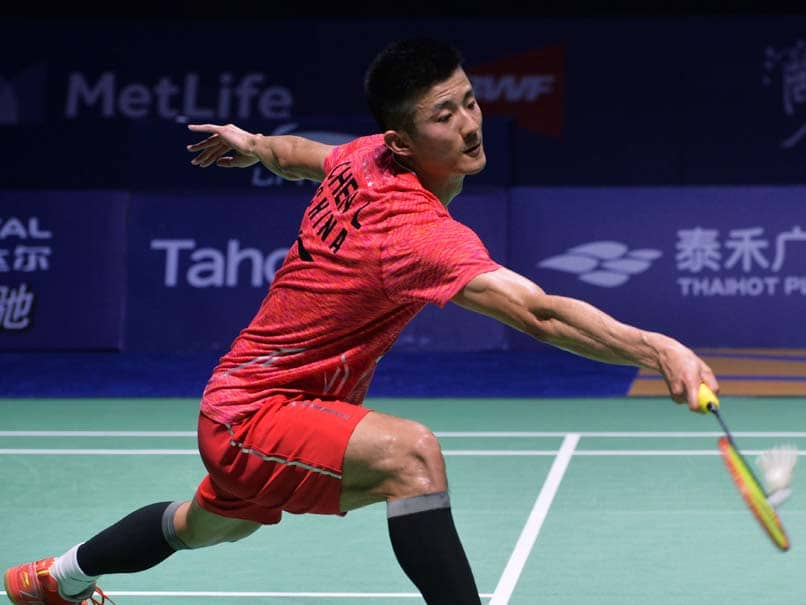 Others:
Among these players, there are other players that you should watch during the Olympics. Some of these players are Viktor Axelsen, and Chou Tien Chen ranked 3 and 4 respectively with the main reason that they're not included higher being that they consistently lose to some of the better players.
Two other players are both former world number ones, Lee Chong Wei and Son Wan Ho. Both these players are injured and have not returned to court yet but should they return, these players are definitely players to watch. I've also made a specific post discussing whether or not Lee Chong Wei can make it into the Olympics so make sure to check that out.
Women's Singles
Women's singles have been exciting. Tai Tzu Ying takes my number one spot solely for her dominance in the tournaments she has played, but many players such as Akane Yamaguchi from Japan are rising up to take away the place.
1. Tai Tzu Ying (Chinese Taipei)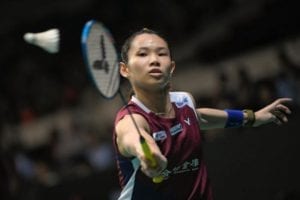 Tai Tzu Ying is the world number one. Although she has missed the 2019 Asia Championships and talked about how she was going to retire after the 2020 Tokyo Olympics, her skill is still up to par and a player that everyone has trouble beating.
2. Akane Yamaguchi (Japan)
Akane Yamaguchi has been steadily rising throughout the past few years and really shines at improving. She has been consistently getting better and eventually won the 2019 Asia Championships. She may be ranked at only number four right now, but that's sure to change as time goes by.
Honorable Mentions:
There are quite a few honorable mentions with a mix of young players from China and more established players looking to keep up with the league. Here are some honorable mentions.
Nozomi Okuhara (Japan)
Nozomi Okuhara, currently ranked number two and won an Olympic bronze medal in 2016 stands as one of Japan's most popular players. Although she is ranked higher and played longer than Akane Yamaguchi, her performance recently has not been spectacular and is falling behind her teammate, Akane Yamaguchi.
Chen Yu Fei (China)
Chen Yu Fei has been noted as one of the most promising rising stars from China. There was a time where women's singles players from China were unbeatable; however, that time has ended, and the women's singles category has undoubtedly become more competitive. Chen Yu Fei has not won anything major recently, but as world number three, she is still a player to be noted.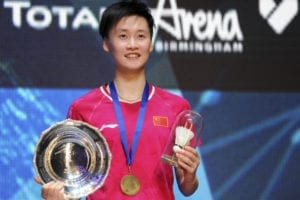 Pusarla V. Sindhu (India)
The 2016 Olympic silver medalist and world number five, Pusarla V. Sindhu (along with Saina Nehwal) has been the core of India's best badminton players. Unfortunately, this year PV Sindhu has not been performing as well as everyone thought she would as she has lost multiple times in the early stages of recent tournaments to lesser-known players. However, she can still be a badminton player to be considered when she ups her game.
Others:
Another notable player is Carolina Marin, the current Olympic champion. Unfortunately, she is recovering from injury right now and has not played any tournaments recently. It is a question of whether she'll be able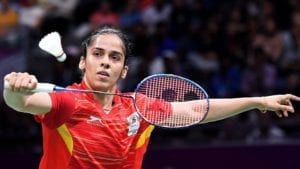 to perform to how she did before when she comes back.
Other active players to watch are Thailand's Ratchanok Intanon and India's Saina Nehwal who both had splendid performances at one point. However, these two players have also been relatively inconsistent in their tournaments recently and thus, don't take my top spots.
Men's Doubles
Men's doubles, often the most exciting category of badminton to watch, is full of players looking to make their mark on the world. Right now, the competition in men's doubles has been extraordinarily close, and as such, my rankings may be extremely controversial.
1. Li Jun Hui/Liu Yu Chen (China)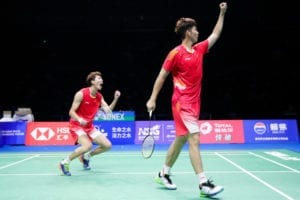 Li Jun Hui and Liu Yu Chen are some of the tallest badminton players in the world which makes them extremely scary on the court. It's not just their height that makes them suitable though, they have performed exceptionally well in the significant tournaments despite not playing in some of them. As the current world champions, they are definitely players to watch.
2. Takeshi Kamura/Keigo Sonoda (Japan)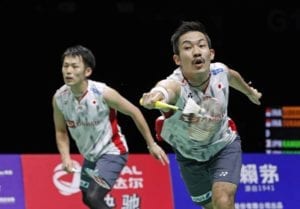 Takeshi Kamura and Keigo Sonoda is a pair from Japan that has been getting a lot better. Since getting second place in the 2018 World Championship, they have performed consistently reaching the semi-finals or finals of many significant tournaments recently and even winning them. Huge focus will be put onto them by the Japanese national team.
Honorable Mentions:
In the men's doubles sector there are a few other players to consider namely players from Indonesia and Japan.
Kevin Sanjaya Sukamuljo/Marcus Fernaldi Gideon (Indonesia)
Although Kevin Sanjaya Sukamuljo and Marcus Fernaldi Gideon are ranked number one, they have had quite a poor performance recently. After finally breaking their curse of losing before semi-finals, they reached the finals of the 2019 Asia Championships only to suffer an utter defeat, 21-18, 21-3, by the hands of Hiroyuki Endo and Yuta Watanabe. If they improve and go back to the state of dominance they were in; however, the minions may be able to win the 2020 Olympics.
Hendra Setiawan/ Mohammad Ahsan (Indonesia)
Another pair from Indonesia, Hendra Setiawan, and Mohammad Ahsan had been sitting in the shadows of teammates Kevin Sanjaya Sukamuljo and Marcus Fernaldi Gideon until recently when they won the 2019 All England. Although since then, their performance has not been outstanding, they are still performing well.
Hiroyuki Endo/Yuta Watanabe (Japan)
This pair from Japan has been improving like crazy! They went from being quarterfinalists to champions handing the world number ones their most significant loss! Hiroyuki Endo and Yuta Watanabe are certainly pairs that can compete at the top, and if they continue this streak, they will become a doubles pair that shouldn't be messed with.
Others:
Among other players, we should look at Kim Astrup and Anders Skaarup Rasmussen from Denmark, Chen Hung Ling and Wang Chi-Lin from Chinese Taipei, and Han Cheng Kai and Zhou Hao Dong from China. These are all young players looking to make their mark, but we have yet to see more of them.
Another exciting player to watch is Lee Yong Dae who was noted as one of the best doubles players from Korea until his "retirement." Alongside Kim Gi Jung, his doubles partner, Lee Yong Dae has to play in small tournaments to rack up points to fight in the major ones, and with his recent victories, it seems like we will see him again playing in the top soon.
Women's Doubles
Women's doubles have just been a battle between Chinese players and Japanese players. Many of the recent tournaments have been dominated by Chinese and Japanese players with either of two winning or getting second place. But there are a few that stand out among the rest which is listed here.
1. Chen Qing Chen/Jia Yi Fan (China)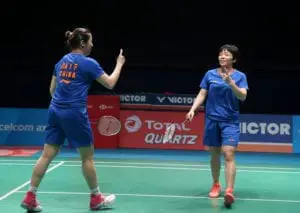 Chen Qing Chen and Jia Yi Fan has been performing exceptionally well recently. Although ranked at number four, they have taken down higher ranked players multiple times.
2. Mayu Matsumoto/Wakana Nagahara (Japan)
Mayu Matsumoto and Wakana Nagahara are the current world number ones. Although they haven't been especially dominant recently, these two are still players to be considered for the Olympic women's doubles title.
Honorable Mentions:
Continuing with the Japanese Chinese battle, my honorable mentions consist only of Japanese and Chinese players. I really do believe that the best women's doubles players right now are from Japan and China although it is still relatively early in the year.
Yuki Fukushima/Sayaka Hirota (Japan)
Yuki Fukushima and Sayaka Hirota are the world's number two players from Japan. They are equals with other top Japanese players, so it is tough to rank these players. Nonetheless, we have to consider these two.
Misaki Matsutomo/Ayaka Takahashi (Japan)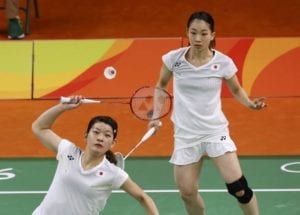 Misaki Matsutomo and Ayaka Takahashi are also two players that must be considered. After all, they were the 2016 Olympic champions! However, they are ranked a little lower because their recent performance has not been superior to other players so I can not rate them higher.
Du Yue/Li Yin Hui (China)
Du Yue and Li Yin Hui from China are players that have come into the scene recently and shown some impressive results. Making their way into multiple semi-finals matches throughout the year, these two players are rising up to compete with others.
Others:
A few other doubles pairs to consider is Greysia Polii and Apriyani Rahayu from Indonesia and Lee So Hee and Shin Seung Chan from Korea. However, these players have not been at the top of their game, and thus I cannot put them higher up.
Mixed Doubles
In mixed doubles, the skill level is a lot more spread out. Chinese mixed doubles pairs have been performing notably better than other players around the world which is why both my top two are Chinese players.
1. Zheng Si Wei/Huang Ya Qiong (China)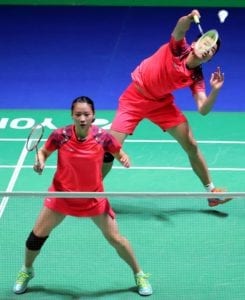 At number one, I have Zheng Si Wei and Huang Ya Qiong listed. These two won the 2018 World Championships, 2019 All England, and among other tournaments. They only have 8 match losses in the entire season and has done exceptionally well.
2. Wang Yi Lyu/Huang Dong Ping (China)
Recently, Wang Yi Lyu and Huang Dong Ping have shown to have mixed doubles prowess beating Zheng Si Wei and Huang Ya Qiong and winning the 2019 Asia Championships. These two are also ranked number two in the world.
Honorable Mentions:
Although the two Chinese mixed doubles players are quite a bit better than other mixed doubles pairs, there are a few players that are still really good and have a chance at winning the 2020 Tokyo Olympics.
Yuta Watanabe/Arisa Higashino (Japan)
Yuta Watanabe and Arisa Higashino are the most notable pair that comes close to the two Chinese pairs. This pair is uniquely special in terms of Arisa Higashino's attack, but they do fall apart in terms of defense and its the reason they cannot beat players such as Zheng Si Wei and Huang Ya Qiong.
Chan Peng Soon/Goh Liu Ying (Malaysia)
Chan Peng Soon and Goh Liu Ying, 2016 Olympic silver medalists are a stable pair in the world. Sitting at rank number five, these two players from Malaysia are still a force to be messed with.
He Ji Ting/Du Yue (China)
Only recently, He Ji Ting and Du Yue have been performing quite well making it to the semi-finals of the 2019 Asia Championships. However, they are still not as good as the top two Chinese pairs, but they can definitely improve.
Others:
Other players to watch for include Chris Adcock and Gabrielle Adcock as well as Mathias Christiansen and Christinna Pedersen. Although we haven't seen them much at the major tournaments recently, you never know if they could be a darkhorse team that takes over.
There are also various players from Indonesia and Thailand on the rankings that are worth watching as well.
Conclusion
The 2020 Tokyo Olympics looks to be a hard fight between China and Japan with the majority of my top players taking those spots. There will definitely be exciting matches taking place. Although the Olympic qualification period has started, it will be some time before the players will actually face off on the big stage. We still have a World Championship and the Sudirman Cup beforehand!
As the year passes and people change, there will definitely be shifts in the ranking which will result in a change of opinion. I will probably do another post predicting the top players when the 2020 Tokyo Olympics come closer.
What do you think about this list? I would love to see you make your own list and put it in the comment section down below! As always, good luck in your games and have a great day!